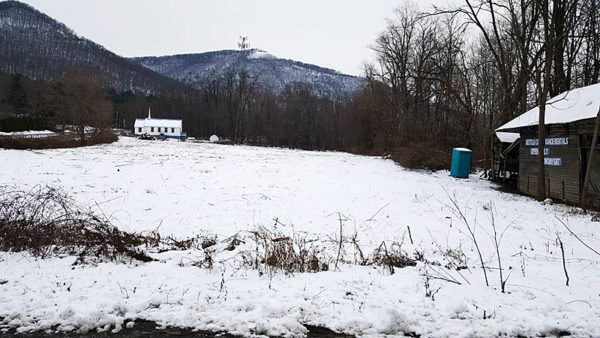 By LaKeshia Knarr
CHAPMAN TOWNSHIP – After verifying the lot met size requirements, the Chapman Township Zoning Hearing Board last week approved a special exception for a sawmill business to operate from a property in Hyner with a 2-0 vote.
Bob Hillyer, owner of Hillyer Lumber and Firewood LLC, was seeking permission to operate a firewood sale and sawmill business on a property at the intersection of Route 120 and Hyner Run Road in Chapman Township. The property is in a Forest and Agriculture zoning district and borders lots zoned Residential, requiring Hillyer to receive a special exception for the business.
The Chapman Township Zoning Hearing Board opened up a public hearing on the matter Dec. 6, but had to issue a continuance so the lot could be measured, as the sawmill must be at least 200 feet from a Residential property line. The board reconvened last Thursday, Dec. 22, to settle the matter.
Many people spoke during each part of the hearing, with local residents concerned the proposed sawmill would create unwanted noise and dust in the area.
Voting to allow the sawmill to operate at the Hyner location were Eric Ditty and Charles Rossell, a former township supervisor who served as an alternate for Dennis Trout. Greg Lucas abstained from voting.
The board set additional requirements on the mill, however.
According to Ditty:
The sawmill must be at least 200 feet from a residential property line.
Noise levels cannot be greater than 65 decibels at the property line.
The sawmill may only be operated between 8:30 a.m. and 6 p.m., and not on Sundays.
Entrance and exit routes will connect directly to Route 120 and must be gravel.
A fence will be placed along Route 120 to hinder dust.
If dust is created, roads must be watered.
Sawdust must be stored and covered with a tarp.
Hillyer's three full-time and two part-time employees were laid off from work between the two hearings because it took longer than expected to get the business up and running, according to Hillyer.
While the exception was granted, the businessman is not quite satisfied with the outcome.
"They gave me conditions and I'm not very happy with the conditions," Hillyer told The Record-Online.
Hillyer believes the requirement that the entrance and exit routes connect directly to Route 120 will pose unnecessary risk to drivers traveling west on Route 120 when people leaving the property are also turning onto Route 120 westbound.
He prefers to utilize River Road, however he was told that road has weight restrictions.
Hillyer is also displeased with the restriction on hours of operation, saying it's difficult to work past daylight when night falls early in the winters or through hot afternoon hours in the summer when exposed to the elements.
"But what were my choices?" he asked. "There was no compromise. Obviously I had to say yes."
Regarding the fence along Route 120, Hillyer already has a plan in the works. He hopes to construct 50 3-by 6-foot pens side by side along the road and intends to raise pigs there come springtime.
Hillyer, who has been working with a portable sawmill that he can use wherever needed, said his goal is to be able to perform all of his firewood and lumber work from one location. The business owner said he began a three-year lease agreement for the property in October, but doesn't intend to build any permanent structures.
His employees are back to work this week, he said, and he anticipates the proposed sawmill will allow him to employ a total of 8-10 people.
"We're going to be cutting and selling firewood. The sawmill might not come in there until spring," Hillyer shared.
Ditty said if Hillyer had disagreed with the vote, the businessman could have appealed the decision to the Court of Common Pleas, where the judge would have only needed to require the sawmill be 200 feet away from a Residential Zone and not emit over 65 decibels at the property line.  With the current outcome, Ditty contends, additional restrictions were able to be put in place to pacify residents' concerns.
"I feel it was a fair decision," Ditty said after the board approved the exception. "It was not a personal decision we made tonight. It was just one of following the ordinance that was wrote in April of 1998."