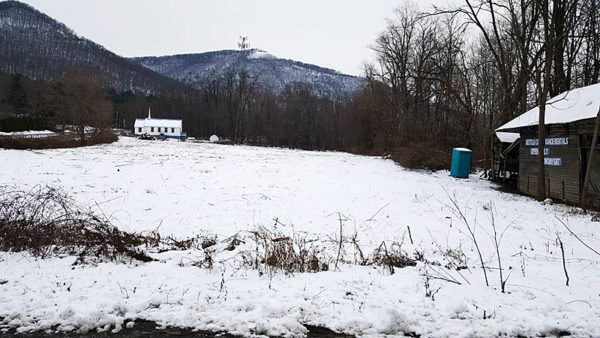 By LaKeshia Knarr
CHAPMAN TOWNSHIP – The Chapman Township Zoning Hearing Board will reconvene this Thursday at 6:30 p.m. to determine if a local businessman will receive a special exception to operate a sawmill in a Forest and Agriculture zoning district.
Bob Hillyer, owner of Hillyer Lumber and Firewood LLC, wants to operate a firewood sale and sawmill business on a property at the intersection of Route 120 and Hyner Run Road in Chapman Township.
Because the property is zoned Forest and Agriculture and is adjacent to properties zoned Residential, Hillyer needs a special exception for the business, explained Eric Ditty, a member of the three-person Chapman Township Zoning Hearing Board. Also serving on the board was Greg Lucas and Charles Rossell, a former township supervisor who served as an alternate for Dennis Trout, chairman of the board. Trout was out of town during the first hearing.
Ditty said the sawmill machinery needs to be at least 200 feet from adjacent residential property lines. Because it was not clear if the property met that requirement during the hearing held Dec. 6, the board opted to issue a continuance of the hearing. Between that hearing and this Thursday's, a zoning officer is to measure the property.
Residents in the area have expressed concerns with noise and dust from the business, Ditty said.
Hillyer, who has been working with a portable sawmill that he can use wherever needed, said his goal is to be able to perform all of his firewood and lumber work from one location. The business owner said he began a three-year lease agreement for the property in October, but doesn't intend to build any permanent structures.
"Nobody wants it," Hillyer said of the proposed sawmill. "They just want to see a field that has weeds in it."
The company's three full-time and two part-time employees were laid off due to the stalemate, as it's taking longer than expected to get the business up and running, according to Hillyer.
"Everything's at a standstill," he said, noting he anticipates the proposed sawmill will allow him to employ 8-10 people.
The hearing will begin at 6:30 p.m. Thursday in the Chapman Township Municipal Building at 196 Main St., North Bend. The public is welcome to attend and there will be opportunities to address the board during a public comment period.