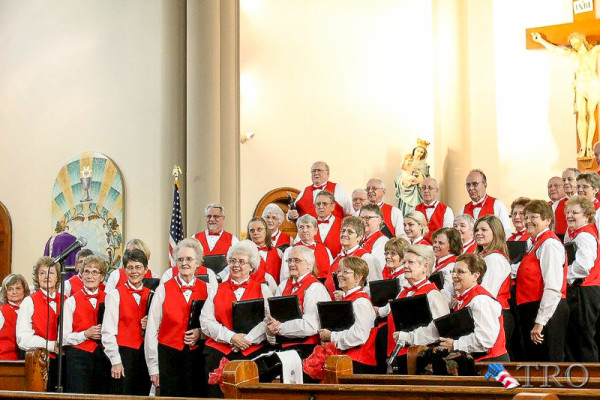 RENOVO – Mark your calendars – When:  Dec. 4, 2016, at 2 p.m. Where:  St. Joseph's Catholic Church 9th Street, Renovo.
Who:  The Renovo Area Community Choir directed by Patricia Lacy and accompanied by Martena Rogers.
What:  our Christmas Concert   "A Rockin' Holiday"
Why: to enjoy an afternoon of holiday music.
The Renovo Area Community Choir presents "A Rockin' Holiday" and moves you through the season with songs both secular and sacred.  The concert begins with "A Joyful Night" featuring 'Silent Night', followed by the gentle "Mary Rocked the Little Baby".  Everyone will recall the next 60's number "Little Saint Nick" by Brian Wilson.  "Rocking", a traditional Czech Carol features the keyboard with a beautiful lullaby.  Not forgetting Santa and his reindeer, the choir will perform a 50's rock tune "Down, Down the Chimney".  And rounding out the first half of the afternoon we'll swing into "Santa, Bring My Baby Back to Me".
"A Jingle Bell Christmas" starts off the second part of the concert with the men joining in to accompany the women as they perform a medley of jingle songs – 'Jingle Bell Rock', 'Jingle, Jingle, Jingle', and 'Jingle Bells'.  "The Cradle Rocks in Glory!" is a charming lullaby arrangement of a traditional Christmas spiritual.  Then we rock on to "Santa Claus is Comin' to Town"!  The energy continues with "Mary, Mary" and "Shepherds, Go Tell!", a combination of 'Rise Up Shepherds and Follow and Go Tell it on the Mountain'.  Moving through  decades of swing, doo-wop, Motown and pop rock the choir closes the concert with "Favorite Holiday Songs" featuring 'Jolly Old Saint Nicholas', 'Deck the Hall', 'Up on the Housetop' and 'We Wish You a Merry Christmas'.
A special treat will be the pre-concert and intermission organ selections by Joe Turnowehyk.  You won't want to miss this, so come early to enjoy hearing the St. Joseph's pipe organ sounding out the songs of the holiday!