by LaKeshia Knarr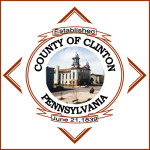 LOCK HAVEN – In the midst of planning the 2017 budget, Clinton County commissioners said Monday they believe no tax hike will be necessary to balance the spending plan.
While no specifics were provided during the commissioners' regularly scheduled work session, Commissioner Pete Smeltz, chairman of the board, said the plan is to present more details on Thursday.
Outlining how the board typically approaches the budget, Smeltz said they fund core needs and programs first, then look at capital projects and potential grant opportunities before reviewing personnel requests and other goals.
"We believe we'll be able to present a balanced budget without a tax increase," he said.
Commissioner Jeff Snyder agreed. Commissioner Paul Conklin was not in attendance.
Last year, under the former board, Clinton County commissioners approved a $33.4 million budget that included an 11 percent tax increase for property owners. That equated to an additional $1.1 million in revenue.
That increase brought the total year's tax bill on a property valued at $125,000 to $750.
State Impact
The board also briefly discussed the state budget and how it will impact counties later.
Smeltz said the County Commissioners Association of Pennsylvania (CCAP) conference held Nov. 20-22 brought attention to concerns with the state's revenue shortfalls for the 2016-17 budget, and how that will ultimately impact counties down the road.
Snyder pointed to Clinton County's efforts to fill budget gaps where the state has pulled back in recent years, including allocating $249,000 more for Children and Youth Services and $110,000 for court expenses.
"We are forced to fill in these gaps or quit delivering these services, which is really not something that's afforded to us because they're unfunded mandates," Snyder said candidly.
Snyder, referencing the divide between the state's Democratic governor and Republican legislature, said there is a feeling the budget will be dragged out longer than the last stalemate in Harrisburg. In the past state workers didn't get paid until the budget was adopted but that has changed, he said.
"There's no pain out there in Harrisburg. The pain is felt here," he said.
Commissioner Smeltz mentioned a CCAP initiative designed to get counties to not fund services when the state fails to do so, in an effort to make a statement to representatives in Harrisburg. Both commissioners voiced their frustration with the situation, saying it would be difficult to not fill the void, as citizens are the ones to suffer in the meantime.
Creative Saving
They discussed various ways officials in Clinton County have been working to creatively increase revenue and decrease spending, including increasing the hotel tax and the warden's initiatives to fill empty beds and review contracts, among other things.
Going forward, Commissioner Smeltz said the board is developing a capital improvement plan for the next two years, which they hope to discuss further on Thursday.
In addition, the board is looking at its debt service and is meeting with a bond counselor in the next week to discuss a new bond.
Briefly discussing an underway Clinton County Correctional Facility renovation project, the commissioners said an addendum may be made to the plan so a wall can be removed in the prison. Removing a wall between two blocks at the facility may reduce staffing needs, Snyder said.
The initial renovation project being handled by EADS Architects, Inc., was approved for $171,500 in June; details on the addendum, including the price tag and potential savings, will be discussed Thursday.
Another potential money-saver discussed Monday dealt with the laundry service for Susque-View Home. Laundry from Susque-View is washed at the county prison, Snyder explained, noting that in the past this was seen as cost efficient. After some review it was determined the current agreement may actually be costing taxpayers and Susque-View, he said.
The plan is to discontinue that agreement with the first of the New Year, Snyder said. Officials are floating the idea of locating laundry machines in the inmates' cells, so they can do it themselves, he said.
"We're trying to be innovative and trying to have some vision," Commissioner Smeltz said.