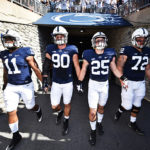 UNIVERSITY PARK — Penn State special teams specialist Von Walker is scheduled for an MRI today on his injured left knee, sustained in the second quarter in the Nittany Lions' 39-0 win at Rutgers Saturday night.
Walker, a senior captain from Mill Hall, was hit from behind on an illegal block while on punt coverage. He needed assistance from the field and did not return.
A family member said the MRI was to be performed today but said in a social media post his 4-year Penn State career is over. Word of the severity of the injury brought a continual flow of social media thanks to him for his contributions to Central Mountain High School and Penn State football, many lauding him as a role model for area young people.
Walker is scheduled to be part of next Saturday's senior day observance before Penn State's final regular season game against Michigan State. He will graduate next month in just three and a half years and is to accompany the team on the remainder of its season.