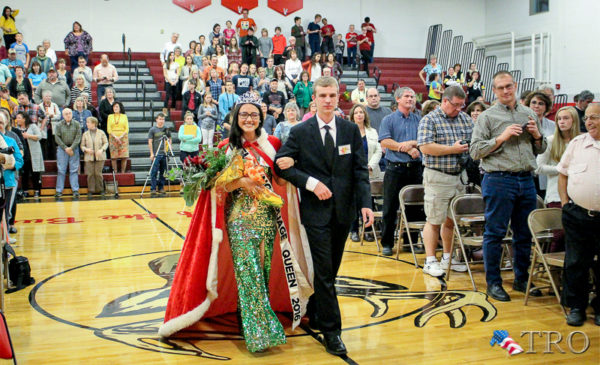 Michelle Hunter, representing South Williamsport High School, and her escort, McGwire Molino, take a walk around the Bucktail High School gymnasium after being crowned the 2016 Flaming Foliage Queen Sunday afternoon.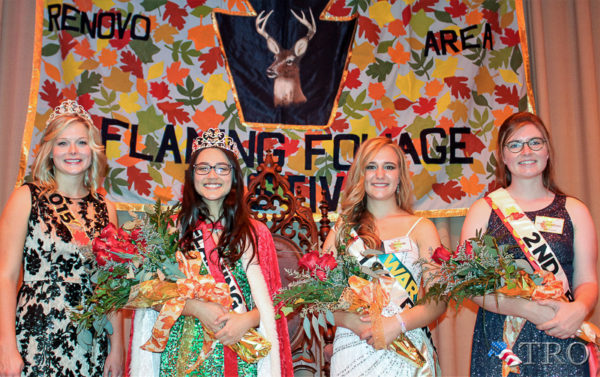 From left: 2015 Flaming Foliage Queen Natalie Mee of Wellsboro poses with the newly-crowned 2016 Queen, Michelle Hunter of South Williamsport and her court, First Runner-Up Keturah Corderman, representing Warrior Run High School, and Second Runner-Up, Evelyn Russell, Miss Port Allegany.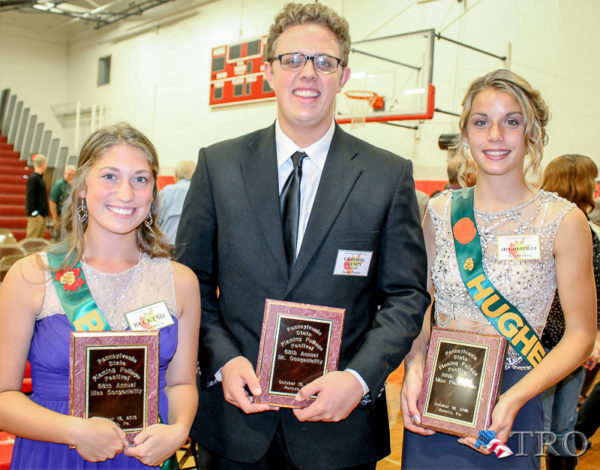 Miss Bucktail, Renee Werts, left, was voted Miss Congeniality by her fellow Queen contestants, while Derek Rieder, escort for Miss Cameron County, received the nod as Mr. Congeniality from fellow escorts. At right is Autumn Avery, Miss Hughesville, who was named Miss Photogenic by the Queens Judges. Not pictured, Miss Cameron County Kendyl Guisto, received the Judges Memorial Award for Community Service, and South Williamsport escort McSwire Molino received the Alex Rauch Memorial Award, also given for service to community.
To the delight of the audience, the 2016 Flaming Foliage hostesses were able to coax Flaming Foliage Committee member and coronation ceremony emcee Martha Sykes, left, onto center stage to show off some of the dance moves they enjoyed at the Queens Ball Saturday night. Sykes served as one of the chaperones for the Ball and was said to have really enjoyed dancing with the high school students. From left are hostesses Hannah Bowes, Katelyn Hand, Hailey Risley, Ebonee Spriggs, and Bucktail High School's 2017 Laurel Festival representative Emalea Mills.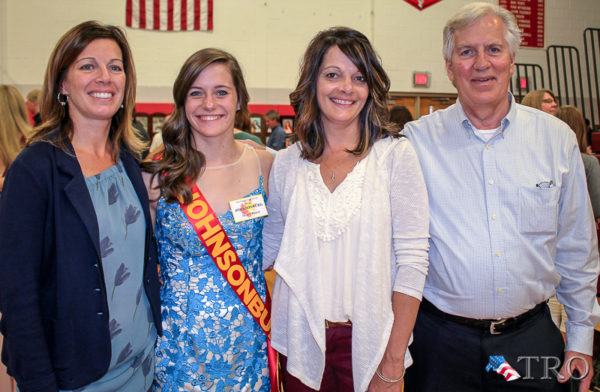 Three generations of the Stauffer family have now represented Johnsonburg High School at the Flaming Foliage Festival. Pictured second from left is Nicole Myers, this year's Johnsonburg representative, with her mother, Tracey Stauffer Myers, at her left. Tracey was crowned Flaming Foliage Queen in 1988. Her sister, Tara Stauffer Vavala, represented Johnsonburg at the Festival in 1992, and their father, Tim Stauffer, was a queens escort during the 1967 Flaming Foliage Festival.
In addition to the Stauffer family, it was noted that Miss Williamsport, Halle McCormick's grandmother, Judy Yeagle, also present at the coronation ceremony, had been crowned Flaming Foliage queen in 1958.  She had represented Montgomery High School.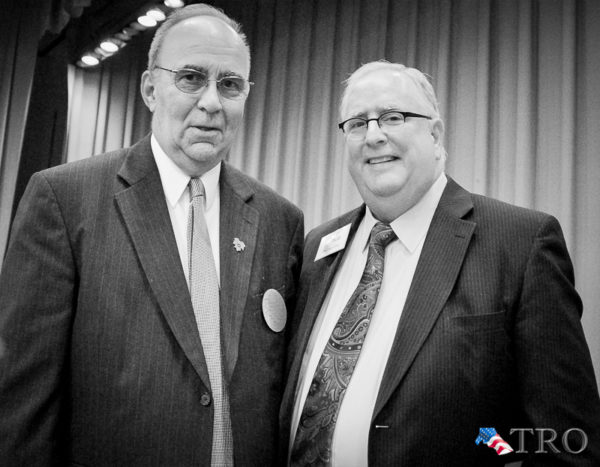 Long-time Flaming Foliage Festival Committee volunteer and this year's Festival Co-Chair Dave Watt, left, received the second annual Moriarty Family Award for Volunteerism, presented by Renovo native Dick Moriarty, right, who also served as a Queen's Judge.