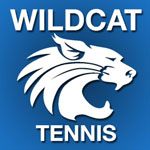 TYRONE – The Lady Wildcat tennis program aded another perfect outing to their 2016 record with a 5-0 road win over the Lady Golden Eagles.
Jolee McCluskey defeated Tina Hollen 6-2, 6-3. with Quinn McCluskey outpaced Tyrone's Winnie Grot 6-1. 6-0 and Lady 'Cat Katherine Strouse took down Alli Hosko 6-0, 6-0.
In doubles play, Keli Kwiatek and Kendall McCluskey beat the hosts' Grace Gensimore and Lindsey Walk 6-1, 6-1 while Cierra Merrill and Becky Piergallini matched that effort over Lady Golden Eagle's Olivia Reese and Katie Hamer 6-0, 6-1.
The sweep of wins moves Central Mountain to 15-2 on the season.
Next, Central Mountain will host Selinsgrove on Wednesday, Oct. 12, 2016.
Central Mountain 5 Tyrone 0
1 Jolee McCluskey CM def Tina Hollen 6-2 6-3
2 Quinn McCluskey CM def Winnie Grot 6-1 6-0
3 Katherine Strouse CM def Alli Hosko 6-0 6-0
1D Keli Kwiatek/Kendall McCluskey CM def Grace Gensimore/Lindsey Walk 6-1 6-1
2D Cierra Merrill/ Becky Piergallini CM def Olivia Reese/Katie Hamer 6-0 6-1