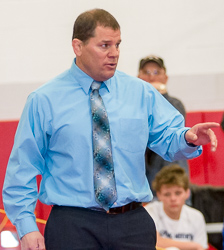 WILLIAMSPORT – A class of 12 inductees, many with a distinct Lock Haven connection will be inducted into the West Branch Valley Chapter of the Pennsylvania Sports Hall of Fame Annual Awards Banquet at the Genetti Hotel on Sunday night, Nov. 13. The 2016 class includes four legendary local coaches, three professional athletes, three national champions, three state champions and four All-Americans among numerous other accomplishments.
10 living inductees (Maynard Aungst, Doug Buckwalter, Pat Flannery, Sherri Guthrie-Depasqua, Lyndy LeVan, Scott Lynch, Ken Melchior, Richie Rodarmel and Biff Walizer) and two deceased inductees (Tom Poorman, Bud Stehman) will be honored at the banquet.
Seats for the induction banquet are available for $25 from Chapter Treasurer Dave Bower by calling 570-220-4554, e-mailing dbower@lhup.edu, or by mailing a check made payable to the West Branch Valley Sports Hall of Fame mailed to Dave Bower, 1420 Campbell St., Williamsport PA 17701.
Below is a look at each member of the Class of 2016:
Maynard Aungst                  Lock Haven HS – Wrestling
Three-time PIAA state semifinalist at Lock Haven High School from 1954-58 … won state titles at 95 pounds in 1956 and 103 pounds in 1957 … a three-time District 6 champion and three-time Central Northwest Regional Champion … wrestled for one year at Bloomsburg, posting a 16-2 record, with his only losses coming to three-time national champion Gray Simons … went on to compete with the Lock Haven YMCA, winning seven state and two national YMCA titles … named state's outstanding wrestler award five times and the national YMCA outstanding wrestler in 1960 … inducted into Pennsylvania Wrestling Coaches Association Hall of Fame in 2008.
Doug Buckwalter Lock Haven HS/Lock Haven University/Central Mountain HS – Coaching
Coached wrestling at Lock Haven High School (1985-95), Lock Haven University (1995-04) and Central Mountain High School (2005-15) … quickest coach to reach 300 career dual meet wins, doing it in 22 seasons … posted career record of 307-78-3 … won 2010 PIAA State Championship, earning state's Class AAA Coach of the Year honors … 10-time District 6 Coach of the Year …. Coached 54 district champions, 33 Northwest Region champions and nine PIAA state champions … 1984 NCAA Division I Championships qualifier at Lock Haven University … 2016 Pennsylvania Wrestling Coaches Association Hall of Fame inductee.
Pat Flannery                         Bucknell University – Coaching
Head coach at Bucknell (1994-08) and Lebanon Valley (1989-94) … finished 329-221 (.598), including 234-178 (.568) at Bucknell … led Bison to first NCAA Tournament win in Patriot League history with upset of Kansas in 2005 … helped team earn top-25 national ranking during the 2006 season and won Hugh Durham Award as mid-major coach of the year … three-time Patriot League Coach of the Year (1995, 1996, 2006) … won NCAA Division III title in 1994 at Lebanon Valley and reached NCAA Tournament twice … 1994 Division III Coach of the Year … 2016 Middle Atlantic Conference Hall of Fame, 2011 Bucknell Athletics Hall of Fame, 2009 Pennsylvania Sports Hall of Fame (sponsored by Allen Rogowicz chapter) inductee.
Sherri Guthrie-DePasqua   Williamsport Area HS – Track & Field/Cross Country
1996 West Branch Valley Chapter Outstanding Female Athlete … 1996 PIAA District 4 Outstanding Female Athlete … finished 15th at 1994 PIAA Cross Country Championships and seventh in 1995 … won 1994 District 4 cross country race … only female at Williamsport to run under 18:00 in a 5K race … two-time District 4 individual and six-time relay champion in track and field … a part of 1993 PIAA Class AAA 3,200-meter relay champions … helped Shippensburg University to NCAA Division II Cross Country Championships four times, including third-place finish in 1997 … qualified for NCAA Division II Track & Field Championships in 10,000-meter run in 2000.
Lyndy LeVan                         South Williamsport HS/Lycoming College – Basketball/Soccer
Lycoming College women's basketball's all-time leading scorer (1,543) … 2000 Freedom Conference Rookie of the Year … Four-time all-conference selection … sits in top five in school's career record book in 10 categories … 2003 Lycoming Female Athlete of the Year and 2008 inductee into Athletics Hall of Fame … set South Williamsport's girls' basketball scoring record in 1999 (1,495), a mark that stood for 21 years … Four-time All-West Branch Conference … 1998 West Branch Conference MVP … Four-time All-West Branch Conference in soccer and 1999 all-state selection … scored 74 career goals.
Scott Lynch                           Mifflinburg HS – Wrestling
1984 NCAA Division I champion at 134 pounds at Penn State … a three-time All-American … two-time Eastern Wrestling League Wrestler of the Year … won 1979 PIAA Class AA 119-pound state title at Mifflinburg High School … also a two-time state runner-up, three-time Northeast Regional Champion and two-time District 4 champion … 1979 Northeast Region Outstanding wrestler … posted a career record of 92-8-3 … a member of the EWL Hall of Fame, the PA Wrestling Coaches Hall of Fame, and the District 4 Wrestling Hall of Fame … currently the Director of Athletic Medicine for Penn State University and the Football team physician.
Ken Melchior                        Lock Haven University – Wrestling
1968 NCAA Division I Champion at 115 pounds at Lock Haven University … Won three NAIA national titles (115 pounds – 1967-68, 123 pounds, 1969) … 1969 NAIA Most Outstanding Wrestler … a three-time Pennsylvania State Athletic Conference champion (1967-69) … went 98-6 in career … qualified for U.S. Olympic Team in 1968 and 1972 … runner-up at 1971 National AAU Freestyle Tournament runner-up … finished third at 1972 World Military Greco-Roman Championship … two-time New York State champion at Lindenhurst High School … inducted into South Jersey Wrestling, Lindenhurst High School, Lock Haven University Wrestling and NAIA Wrestling Halls of Fame.
Richie Rodarmel                   Montoursville HS – Wrestling/Baseball
1994 PIAA Class AA champion at 152 pounds … a four-year starter for Montoursville … finished career with a 120-12 record … a four-time section and District 4 champion, three-time Northeast Regional Champion and three-time state place winner (second in 1996, third in 1995) … three-year member of Shippensburg University baseball team … tossed two one-hitters as a senior … First Team All-PSAC pitcher (2000) and third baseman (1999) … 40th round draft pick of Oakland A's in 2000 MLB draft … played two seasons in minor leagues … inducted into D4 Wrestling Hall of Fame (2016).
Biff Walizer                           Bald Eagle Nittany HS/Lock Haven University – Wrestling/Coaching
A 1963 graduate of Lock Haven University where he was a two-time NAIA champion (1961, 1963, 130 pounds) and three-time Pennsylvania State Athletic Conference champion (1961, 137 pounds; 1962, 137 pounds; 1963, 123 pounds) … recorded a career record of 72-10-1 …  notched win in 1963 NAIA finals over two-time Olympian Bobby Douglas … coached high school wrestling for 32 years, including at Bald Eagle-Nittany from 1970-95 … posted a 252-136-5 record, winning 10 district championships … coached 53 individual district, 20 region and seven state champions … a member of the NAIA National Hall of Fame, Clinton County, District 6 and Pennsylvania Wrestling Coaches Association and National Wrestling – Pennsylvania Chapter Halls of Fame.
John Wilcox                           Lewisburg – Bowling
First American champion at Bowling World Cup in 1966 … US Bowling Congress Open Championships All Events champion in 1966 and added another USBC title in 1977 in Classic Team … posted an 885 series in 1972 that stood as best three-game set for left-handed bowlers for two decades … has bowled 59 300-games and 36 800-series … has won five Pennsylvania State titles (one doubles, one team event, one singles and two all events) … won a PBA title at the Syracuse Open in 1975 … Member of Pennsylvania Bowling, Central Pennsylvania Bowling, Lycoming County Bowling and the United States Bowling Congress Halls of Fame.
Tom Poorman                     Lock Haven, Pa. – Baseball
First major league player from West Branch Valley (Lock Haven) … played in National League and American Association for parts of six seasons from 1880-1888, playing with Buffalo (NL), Chicago (NL), Toledo (AA), Boston (NL) and Philadelphia (AA) … broke into majors as starting pitcher with Buffalo in 1880 … transitioned to outfield and reemerged in majors in 1884 … led American Association with 19 triples and finished eighth in stolen bases in 1887 for Philadelphia … played parts of 12 seasons of professional baseball … finished major league career with 498 hits, 165 stolen bases, 65 doubles, 43 triples, 12 home runs and two wins as a pitcher.
Bud Stehman                        Lock Haven HS – Coaching
Head wrestling coach at Lock Haven High School … coached 1961 team that featured four state champions – Mike Johnson, Lee Deitrick, Gary Cook, and Jerry Swope – who all went on to become NCAA All-Americans … won first District 6 Coach of the Year award in 1960 and repeated honor in 1961 … started wrestling program at Mill Hall High School (Bald Eagle-Nittany) … a member of the first Lock Haven wrestling team in 1939 … won 121-pound Pennsylvania State Athletic Conference title in 1941 … inducted into Pennsylvania Wrestling Coaches Hall of Fame in 1975 and District 6 Wrestling Hall of Fame in 1990.