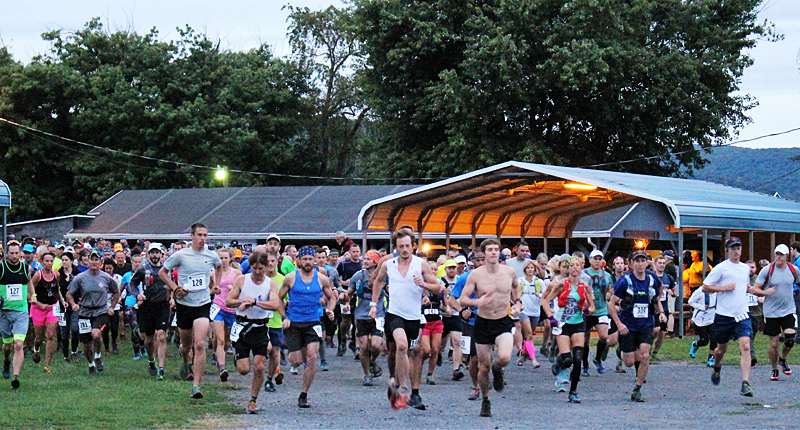 CASTANEA — Cool temperatures helped propel about 300 trail runners and hikers up and over Bald Eagle Mountain between Castanea and McElhattan Saturday for the first annual Boulder Beast trail challenge. The 27-mile course was a tough one, even for the most seasoned, but virtually all participants had high praise for the event.
"This was probably the hardest thing I've ever done, for sure," said Matt Lipsey of Elk County, who was first to cross the finish line in five hours and one minute. "This event made everything else I've ever done look like a carriage ride – it was a beast."
Lipsey is becoming a familiar face in local trail challenges. He has competed in the Frozen Snot, also held on Bald Eagle Mountain but in January, and recently took first place in the Hyner Half, a new, for-runners-only event held last month in Hyner.
Lock Haven resident Mike Hastings finished second, with a time of 5:18, followed by Dave Endress of Altoona, who crossed the finish line just seconds later. Meira Minard of State College finished seventh and was the first female finisher, with a time of five hours, 47 minutes. Sayard Tanis of Lewisburg was second for the women, at 5:49, followed by Rhea Weaver of Hershey, PA, who finished the course in six hours, 25 minutes.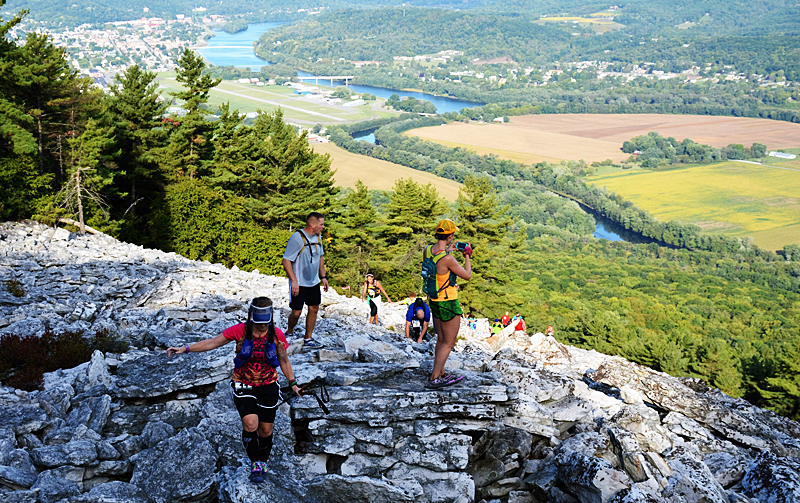 "We were blessed with great weather, which always makes things better," said race director Jeff Stover of Lock Haven. Stover was the originator of the former Megatransect and stepped back in last year to establish the Boulder Beast when the community was in danger of losing a major event on Bald Eagle Mountain.
The Boulder Beast was billed as "a new event, held on familiar ground," and included many of the trail areas that made the Megatransect popular, as well as some new and challenging trails.
"We are gratified by all of the positive comments from new competitors as well as those who had previously done the Megatransect in past years," said Stover. "Some competitors were so impressed with the beauty of the area they actually stopped and took photos along the way; that doesn't happen in other races."
"Most of the competitors were highly challenged by the course, but it's one they're ready to come back to next year," added Stover, who noted that participants came from 14 states.
The event got underway at 7 a.m. Saturday. Stover said volunteer "sweepers" were back at the start/finish at the Castanea Fire Company Picnic Grounds in Castanea about 12-and-a-half hours later, assuring all competitors were off the course.
Stover and Joanne Heimer, who served as volunteer coordinator, also had high praise for the small army of volunteers – about 175 people — who supported the event, from the planning group and the committee that established the course, to those who helped stuff welcome packets and worked the event registration, to volunteers who prepared and served several meals. At critical points along the course, volunteers manned four aid stations and two water stations, and members of the Lock Haven University track and cross country teams were positioned along the boulder field to encourage competitors up one of the most challenging sections of the course.
"I was so proud of so many in our community who were willing to give of their time and energies to support the Boulder Beast — the volunteers were essential," said Heimer. "With the pre-race social and registration starting Friday evening, then the trail race all day Saturday, this really is a two-day event. There wasn't anybody who didn't pull their weight, and we received so many wonderful comments of appreciation from race participants."
Stover also expressed gratitude to event sponsor, the City of Lock Haven. The Boulder Beast course traversed both City watershed property and Bald Eagle State Forest land. Additionally, local company Woolrich, Inc. was a key sponsor and partnered with the race to provide iconic red and black "Buffalo Plaid" Woolrich fleece jackets. Troegs Brewing Company of Hershey also served as a major sponsor, and other local sponsors included First Quality Water & Beverage, Giosue Carducci Lodge #146 of Lock Haven, Little Caesars, and Gaunt Family Dentistry.
Stover says he's confident that, like other local trail events, the Boulder Beast will continue to grow in the future. The date for next year's event is already set for September 23, 2017. "I recently heard something that I'd not heard expressed before," added Stover. "It captured the essence of what the Boulder Beast, Hyner Trail Challenge, Eagleton Mine Camp Trail Challenge, and other fine area trail events represent. Referring to Clinton County and this region's trail races, someone said, 'it's part of our culture now.' That was a 'WOW' moment for me as it meant that we have collectively created something new in our community that did not previously exist, and I believe that's a good thing!"