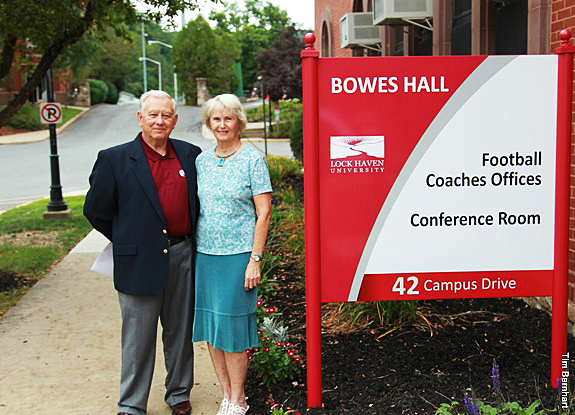 LOCK HAVEN – Lock Haven University recently honored the numerous years of support and generosity of the Bowes Family by naming the Thomas Field House Annex, Bowes Hall.
In dedication for Ron and Jo Ann Bowes's many years of support to LHU and LHU Athletics, the football offices were renamed "Bowes Hall."
This building is used by the football coaches to help prepare for each game, along with meeting each student-athlete about on and off the field matters. A school release said Ron and Jo Ann have already helped make these offices as versatile as they can by installing television screens in every office to allow coaches to watch film easier. The university said without question the LHU football offices are some of the nicest in the Pennsylvania State Athletic Conference (PSAC).
On the day, special guests including both Ron and Jo Ann Bowes, LHU football coach Dave Traynor, LHU Director of Athletics Tom Gioglio, and LHU President Dr. Michael Fiorentino Jr. spoke on the significance of the support of the Bowes Family and what it means to LHU, the LHU student-athletes and the local community.