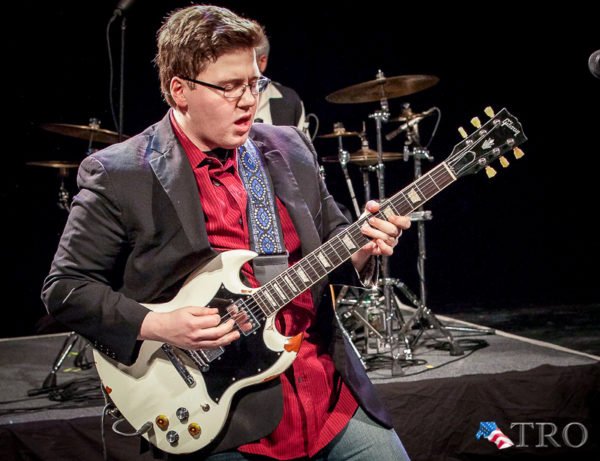 Gabe Stillman & The Billtown Giants on the Floating Stage
LOCK HAVEN – A feel-good, fire-breathin' freight train of the blues, Gabe Stillman & The Billtown Giants is a musical force to be reckoned with … winning over audiences at every show with dynamic performances that showcase the band's musical prowess, depth of artistic passion, and pure joy of playing 'the blues.'
Gabe Stillman & The Billtown Giants will be performing this Saturday on the Floating Stage at the J. Doyle Corman Amphitheater on East Water Street as part of the City of Lock Haven's Free Summer Concert Series. The concert begins at 5:00 p. m.
While the electrifying trio's sound is unmistakably rooted in American Blues, the band draws deeply from the influences of soul, R&B, funk, and New Orleans jazz & blues music, performing both original songs and well-chosen 'cover songs' that pay respectful homage to the true giants of the blues in the band's own inimitable way. But these giants always leave mighty big footprints where ever they roam.
Steered by prodigious guitarist & singer Gabe Stillman, and fueled by a great bassist Colin Beatty and journeyman groove-master Joel B Vincent on the drumkit, this high-energy band was formed by Stillman in April of 2015 after graduating from Boston's prestigious Berklee College of Music … yet, in a very short amount of time, they've already risen rapidly on the scene following standout performances at the Lancaster Roots & Blues Festival and the Destination Blues Festival, as well as shared bills with international blues legends The Nighthawks and Chicago powerhouse Toronzo Cannon. Based in Williamsport, Pennsylvania, Gabe Stillman & The Billtown Giants has fast become favorites of every venue that has hosted them … and most certainly favorites of every music fan to have caught a show. Nighthawks founder & frontman Mark Wenner says of Stillman, "Gabe plays the Blues with strength, personality, and a depth of both feeling and musicianship."  Toronzo Cannon agrees, saying "Gabe Stillman has got the chops and the intensity the Blues should have. Keep your eye on him!"
Now just 21 years of age, Gabe Stillman's mastery of the guitar and fearlessness at the microphone is both remarkable and profound. Fierce in his playing and evocative in his singing, his skills belie his age … with an astonishing depth of knowledge, technique, and love for American roots music and in particular, all facets of 'the blues.' While Stillman has an enthralling style decidedly all his own, a style that ebbs and flows from pin-dropping hushes to mind-scorching mayhem, his influences may be somewhat evident to the astute and discerning blues fan … influences such as Howlin' Wolf, Little Walter, Luther Allison, B.B. King, Buddy Guy, Muddy Waters, or Elmore James. Granted, many (if not most) blues guitarists cite such legends as being influential, but it is Gabe Stillman's deep appreciation of soul music that has greatly shaped his distinctive musical persona. The music of Ray Charles, Sam Cooke, Otis Redding, Marvin Gaye, Aretha Franklin, James Brown, and Al Green found a home in Stillman's heart, and he channels it like a boss.
Early on, at age 11, Stillman enrolled in Williamsport, PA's renowned, where he soon became a shining star of their many ensemble performance groups … most notably as the leader of the school's Youngblood Blues Band, which, in 2012, was invited to perform in the Youth Showcase at the International Blues Challenge in Memphis, TN, and for which Stillman earned an award for individual effort. After then graduating public school a year ahead of his high school class, Stillman enrolled at Berklee College of Music, where he also fast-tracked … earning his Bachelors degree in Professional Music in just 27 months. While at Berklee, he was selected (in just his first semester) as one of only six to perform in the Guitar Department's Jazz & Blues Showcase, which is a highly sought-after spotlight. Stillman performed in many ensemble groups while at Berklee, including traveling to perform at the King Biscuit Blues Festival in Helena, Arkansas. Graduating from Berklee just before his 20th birthday, he returned home to Pennsylvania and immediately formed Gabe Stillman & The Billtown Giants, intentionally enlisting the sought-after talents of friends & musical veterans Colin Beatty and Joel B Vincent.

 In addition to leading Gabe Stillman & The Billtown Giants, Stillman serves on the faculty of the Uptown Music Collective and the teaching staff at K&S Music, as well as hosting two weekly open mic nights and performing solo shows across the region.
Bassist Colin Beatty, an alumnus and former faculty member of Williamsport, PA's Uptown Music Collective, is a highly regarded musician and consummate player, and whose style has been crafted from an appreciation of the R&B/Soul music of Motown and Stax … but especially from his love of the music of New Orleans and the influence of artists such The Meters, The Neville Brothers, Anders Osborne, and Allen Toussaint. A master of 'Nawlins-style' playing (playing 'behind the beat' or intentionally 'dragging'), he is always and ever locked 'in the pocket' with the drummer. Beatty has performed at countless festivals & venues with many artists over the years, most notably with singer/songwriter Melissa Reaves, blues/jam band The Dirty Nickels, and heavy progressive rock band Silenus. He has also recorded and toured with Portland, Oregon's Clawfoot Slumber, and is regularly called upon to lend his low-frequency finesse for recordings or as a 'fill-in' player. As a Billtown Giant, Beatty is the perfect complement to the two-piece 'groove orchestra' backing Gabe Stillman, especially having played many a time with drummer Joel B Vincent in the past … and the fun they have together on stage is clearly evident.

 An 'elder statesman' of the music scene and considered by many to be a 'drummer's drummer,' has played, recorded, or worked with innumerable artists over his 38-plus years of drumming. With an unassuming, fluid playing style that is sublimely expressive and intuitive … when it comes to laying down a groove, few are smoother, funkier, or more rhythmically clever. Joel has performed with such artists as Bo Diddley, Davy Jones, Melissa Reaves, Joan Osborne, Dave Keyes, The Spiral Starecase, and plenty more. Prior to happily signing on with Gabe Stillman & The Billtown Giants, Vincent performed for many years with acclaimed blues-rock band The Blind Chitlin Kahunas, who shared bills with the likes of Tower Of Power, Johnny Winter, Rick Derringer, Cheap Trick, Edgar Winter, and many others. Ever in demand, he also juggles several other musical acts that perform regionally, as well as being involved in a myriad of community endeavors in his beloved hometown of Williamsport, PA. For more about Joel, visit his personal website at joelbvincent.com.
Now celebrating their first year together, Gabe Stillman & The Billtown Giants continue to gain momentum, notice, and accolades … and they'll undoubtedly continue leaving big footprints on the music scene with their hard-stompin' brand of the blues. More than anything for this band, it's all about having fun … fun playing great music and entertaining great people. Bonnie Tallman (of BT Productions Artist Management and the Billtown Blues Association) agrees wholeheartedly, stating "One word to describe Gabe Stillman & The Billtown Giants is FUN! The music delivered by this band, while always paying proper service to the art form and song at hand, is just plain fun to watch and listen to!"
For more about Gabe Stillman & The Billtown Giants, including the band's show schedule, video clips & photos, and the latest band news, visit their website at www.gabestillman.com. Connect with the band and follow them on Facebook at facebook.com/gabestillmanmusic., Twitter at twitter.com/gstillmanmusic, YouTube, and Instagram at instagram.com/gabestillmanmusic. The band's EPK (Electronic Press Kit) for booking or promotional information can be found at www.gabestillman.com/epk.html. To contact the band directly for general information, e-mail: infor@gabestillman.com . For information about booking Gabe Stillman & The Billtown Giants, please e-mail: booking@gabestillman.com.
To learn more about the 2016 Summer Concert Series, check the City of Lock Haven's website at www.lockhavenpa.gov.
[ditty_news_ticker id="5436″]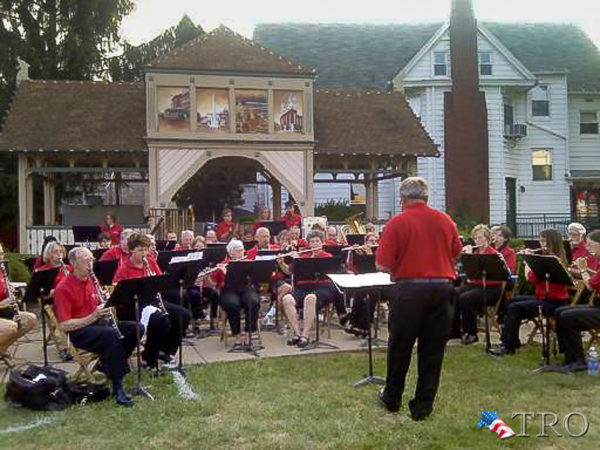 Lock Haven Community Chorus and Central PA Community Band in Concert This Friday at Triangle Park
LOCK HAVEN – The last Friday concert in Triangle Park will feature the Lock Haven Community Chorus and Central Pennsylvania Community Band. The concert, which is part of the Lock Haven Summer Concert Series, begins at 6:00 p.m.
Lock Haven Community Chorus
With a college-community orchestra growing, music faculty member Robert D. Lynch convened a meeting of what was to become the community chorus in 1971, and regular rehearsals in Price Performance Center began almost immediately. The chorus provides an outlet for musical expression for talented area residents of all ages, from teens to senior citizens, as well as wonderful musical experiences for the public. The chorus performs a wide range of music, from novelty numbers through sacred and secular compositions, to great masterpieces of choral music.
The chorus first performed in public in 1972, and since then, it has performed in other communities as well, including Altoona, Lewisburg and venues in the Poconos.  The vocalists have been televised on WTAJ, presented two concerts at the Central Pennsylvania Festival of the Arts, and created the recording "Let Me Share My Music."
Kay E. Knarr-Fisher, an area musician, a lifelong resident of Lock Haven and a music teacher in the Williamsport Area School District is the conductor of the chorus.  Presenting a wide variety of music continues to be the mission of this group.
Central Pennsylvania Community Band
In November of 2009, a hearty group of nine local musicians and a band director met for the first time with a goal of providing music for the Mill Hall Christmas Parade and the annual "Meeting of Santa" at the Mill Hall Fire Company after the parade.  From this beginning, the Central Pennsylvania Community Band was born and began rehearsals in January.  The band quickly grew to a membership of 50 and began rehearsing marches, concert tunes, and novelty tunes.  Members travel from as far as Williamsport and State College to rehearsal which is held each Monday from 7 – 8:30 PM at the Central Mountain Middle School.
Recently the band presented its Seventh Spring Concert to a large, enthusiastic, and extremely receptive audience at the Middle School.  An instantaneous standing ovation ended the performance!  The band looks forward to playing a prominent role in advancing the cause of good band music in the Central PA Area.  The founder and current director of the band is Paul Kellerman, and the assistant director is Ashley Crust.  If you are hoping to hear lots of good old fashioned marches, toe-tappers, and entertaining band music, the Central PA Community Band is sure to please.
The public is invited to attend this free summer concert. Seating will not be provided, therefore, the public is asked to bring a lawn chair.
To learn more about the 2016 Summer Concert Series, check the City of Lock Haven's website at www.lockhavenpa.gov.