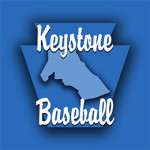 BRISTOL, CONN. – Keystone Little League's outstanding 2016 season came to a halt tonight, one win short of a trip to the Little League World Series.
Keystone battled but surrendering three runs in the top of the first proved too much for the Clinton County team to overcome, New York state champion Maine-Endwell taking the title with a 6-2 win. New York will open the World Series next Thursday at Lamade Stadium with a first round game against New England champ Rhode Island.
For Keystone it will be a 300-mile trip home, but they return with great memories, great performances and district, sectional and state titles. Battling through the elimination bracket to get to tonight's title game proved too much to overcome, Keystone having to play two more contests than the rested New York team.
But Keystone head coach Ben Falls made no excuses. He lauded New York pitcher Michael Mancini who threw a 5-inning 3-hitter, striking out 12: "Mancini kept us guessing. He's a great pitcher. He kept us off-balance and we just didn't get the hits we needed because he was so deceptive."
Falls congratulated New York on its title and said his team will "take this experience along with them forever and ever."
New York batted first and used an error and three hits off starter Aidan Major to score three quick runs. Kaden Falls came on in relief and restored order, going 5 1/3 innings of 5-hit ball, striking out 11 and walking three.
But Mancini kept Keystone off balance. The Clinton County team would get two back in the bottom of the first but that would be it in terms of scoring. Major drew a walk and Cy Probst scored him with a 2-out double. Brady Bendik stroked a single, driving in Probst to make it 3-2 after one.
But Keystone, which had been on a hitting tear in recent games, would get only a fifth inning single from Cayde McCloskey the rest of the way. Mancini and reliever Jude Abbadessa combined for a 3-hitter with 15 strikeouts.
Keystone finished their standout season with a 17-3 mark and the Pennsylvania championship and a runner-up performance in the Mid-Atlantic tourney. Maine-Endwell is now 19-0.
| | | | | | | | | | |
| --- | --- | --- | --- | --- | --- | --- | --- | --- | --- |
| August 13, 2016 | 1 | 2 | 3 | 4 | 5 | 6 | R | H | E |
| NEW YORK | 3 | 0 | 3 | 0 | 0 | 0 | 6 | 9 | 0 |
| KEYSTONE | 2 | 0 | 0 | 0 | 0 | 0 | 2 | 3 | 1 |
This report brought to you by: