Next Stop: Mid-Atlantic Title Game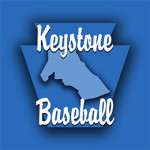 BRISTOL, CONN. – It's one of sports' great clichés, "when the going gets tough, the tough get going." That's one made for the Keystone Little League team.
For the second tournament in a row, Keystone has been challenged to come through the elimination bracket to keep their dream alive. It was a three-in-a-row win streak to take the Pennsylvania title. And now the Keystoners, with three straight wins in the book at the Mid-Atlantic tournament, need one more on Saturday to claim the crown and advance to the Little League World Series.
Win number three in Bristol was a typical blue-and-white win, great fielding, clutch hitting and a superlative complete game from starting pitcher Cy Probst. When the weather-delayed game finally ended Friday night Keystone had defeated Capitol City of Washington, D.C. by an 11-3 score to move into Saturday's 7 p.m. championship game against undefeated (3-0) Maine-Endwell, the New York champions.
Keystone has played with increasing confidence game-by-game in Bristol and the game with Capitol City was no exception. Keystone never trailed, scored in four of the six innings and pounded two CC pitchers for 13 hits. And the hits came from up and down the line-up, including early singles from Josh Keibler and Ryan Pentz. The top of the line-up held its own, Aidan Major with two singles, a double, and two RBIs. Cade McCloskey also had two singles, a double and an RBI; both scored three runs. Probst chipped in with two singles and two RBIs. Other singles came from Kaden Falls, Brian Bendik and Aaron Miller.
Probst meanwhile was masterful on the mound, retiring the last eight batters he faced in hurling a 7-hitter. He also made a spectacular diving play on a pop-up and was helped by right fielder Blade Myers with a great final inning catch. Probst struck out six and walked no one. The Keystone triumph avenged a 7-2 loss to CC back on Monday; Keystone hasn't lost since.
Next up is the Saturday night date with Maine-Endwell. The New York team owns wins over Freedhold, NJ, 8-6; Milton, Del, 1-0; and Capitol City, 8-2. Saturday's winner heads to South Williamsport for the Little League World Series later this month.
| | | | | | | | | | |
| --- | --- | --- | --- | --- | --- | --- | --- | --- | --- |
| August 12, 2016 | 1 | 2 | 3 | 4 | 5 | 6 | R | H | E |
| KEYSTONE | 2 | 0 | 1 | 5 | 3 | 0 | 11 | 13 | 1 |
| DISTRICT OF COLUMBIA | 1 | 0 | 2 | 0 | 0 | 0 | 3 | 7 | 2 |
This report brought to you by: