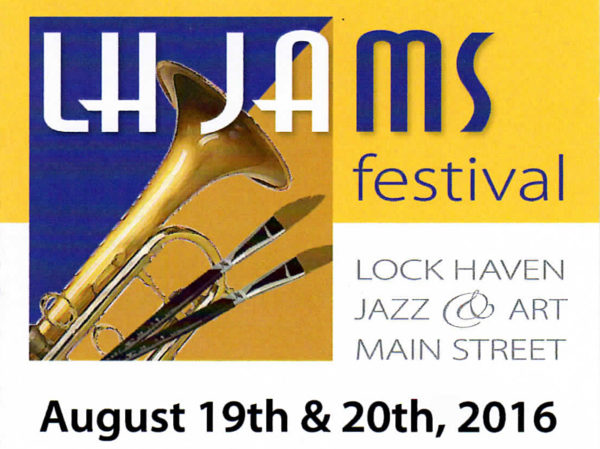 LOCK HAVEN — LH JAMS, the city's first jazz and art festival is scheduled for Friday and Saturday, Aug. 19 and 20.
A creation of the Clinton County Arts Council, with support from the Pennsylvania Council on the Arts and the National Endowment for the Arts, the two day event will feature a Friday reception and a Saturday filled with musicians throughout the Lock Haven downtown.
On Friday night an Art and All That Jazz reception will be held at the Durrwachter Center on the Lock Haven University campus from 7 to 9:30 p.m.  It will feature a cash bar, refreshments, and live jazz.  Your $40 ticket will get you a passport that will grant admission to the reception as well as discounts from the participating craft, art and food vendors downtown on Saturday afternoon, and from the music venues that night.  Event creators are hoping that this event, unique to the area, will continue into the future; public support represents a great investment in the local community.
Another exciting feature of the JAMS Festival is the Master Class that will be offered by guitarist Bill Washer at 10 a.m. on Saturday morning.  Bill Washer is a graduate in composition from the Berklee College of Music.  Throughout his career he has recorded and/or toured with many artists, including Stevie Wonder, Stan Getz, Frank Sinatra, Liza Minelli and Whitney Houston, to name a few.  Bill was the recipient of the Pennsylvania Jazz Collective's 2016 Artist of the Year.  Student instrumentalists are encouraged to participate.  [The workshop is sponsored by Lock Haven University.]
It's not too late Go to www.lhjams.org to purchase your passport to sign up.  Please go to www.facebook.com/events/1630043380620619/ for further information.