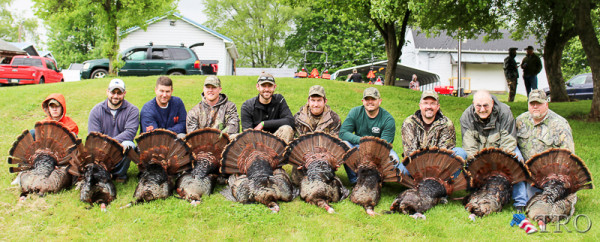 CASTANEA – More than 100 hunters participated in the third annual Energy Invitational Spring Turkey Hunt this past weekend.  While the actual hunting occurred across the state, the two-and-a-half day event was staged at the Castanea Fire Company Picnic Grounds.
Hosted by the National Wild Turkey Federation and local electrical solutions company Tri-M of McElhattan, the Invitational began with a Thursday night dinner featuring keynote speaker Morgan Craft, a 23-year-old from Muncy Valley who will compete for the United States in women's skeet shooting at the 2016 summer Olympics.
A total of 30 two- and four-member teams hunted both Friday and Saturday. In all, 26 birds were harvested in Clinton, Lycoming and Centre counties, as well as in Mifflin, Tioga, Sullivan, Bradford, Erie, Lackawanna and Wyoming counties. Official NWTF scoring standards were used and included bird weight, spurs and beard length. Officials said the heaviest bird weighed 23-and-a-half pounds; the longest beard measured 11 inches, and one jake had a double beard. Most of the adult gobblers had spurs that ranged from 5/8 to 1-inch. The turkeys overall ranged from a couple of jakes, to several three-year-old birds.
Dave Ellison, who hunted as part of the Rose Lee Logging team, was the top scorer and took home a $1,500 cash prize. Second place and a $1,000 prize went to Dave Hale from the Double H Outdoors team, while James Gleason, who hunted with the Wayne Township Landfill team, took home a $500 prize. Double H Outdoors had the high team score. Team members David Hale, Larry Wallen, Dave Huffman and Shawn Hale each received a shotgun.