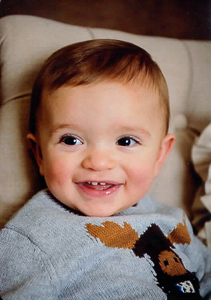 SOUTH RENOVO – This precious little sweetheart is Benson Jayce Stone, son of Jason and Marjie Stone of South Renovo.
He celebrated his first birthday with a party at his home.
He is a very happy little boy who always has a hug and a smile for everyone. He loves toddling after his sister Makenna and brother Teagen. He enjoys running next door to check on his Mimi and Pap Stone. He loves going to visit Gigi and Pap Conly to see the goats and play on the swing set with his cousins, Kayden, Kyler, Keeler and Kiplee. He loves spending time with Terri and Tom Kerstetter. He is Mommy's little helper in the kitchen and he's always ready to play ball with Daddy.
Proud grandparents are Lindy and Larry Conly of West Renovo and Correne and Jamie Stone of South Renovo. Great grandparents are Dolly and Merle Prebble of Renovo.