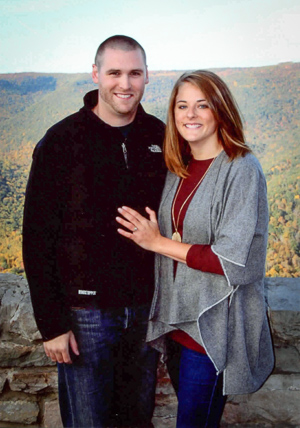 Announcement has been made of the engagement of Miranda Fink and Joseph Simon, both of Montoursville.
Fink is the daughter of Karen and James Fink of Montoursville.  She graduated from Montoursville Area High School in 2006 and received an Associate of Applied Science Degree in Nursing from Pennsylvania College of Technology in 2015.  She is employed by Susquehanna Health as a registered nurse.
Simon is the son of Michele and Mike Simon of Renovo and the grandson of Mary Barner and the late Michael Barner and George B. Simon and the late Betty Simon all of Renovo.  He graduated from Bucktail Area High School, Renovo in 2006 and received a Bachelor's Degree in Business Administration Management with a minor in marketing from Pennsylvania College of Technology in 2010.  He is employed by Fastenal as an outside salesman and by South Williamsport Area High School as head varsity boys' basketball coach.
A September 24 wedding in Muncy is being planned.