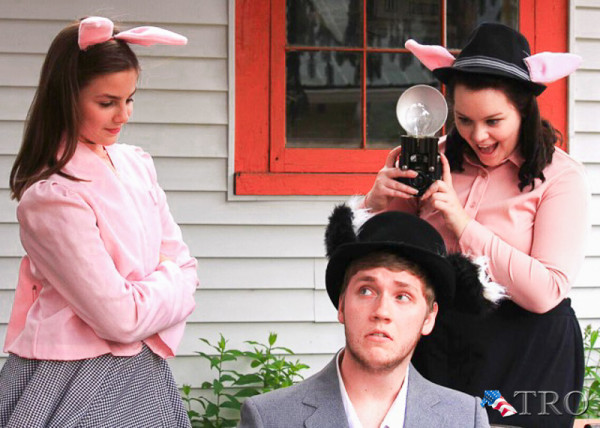 True Story of 3 Little Pigs offers families a rib-tickling good time.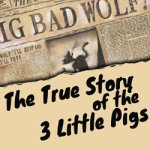 MILL HALL – The Board of Directors and Artistic Director, David Leidholdt, are pleased to announce Millbrook's Children's Theater production of the family musical The True Story of the 3 Little Pigs on the Ryan Main Stage.
Big, bad wolf? Or misunderstood carnivore? The Honorable Prudence Pig presides over Piggsylvania's porky courtroom chaos. With the aid of the high-tech oink-o-meter, your votes will determine the fate of Alexander T. Wolf. A hilarious musical for the whole family.
Watch as law and order meets Old McDonald in a small Piggsylvania courtroom, where the Big Bad Wolf is on trial for the murder of two-thirds of the little pigs. Follow reporter Lillian Magill, as she investigates if Alexander T. Wolf is actually guilty or if there is evidence missing from the story. We will hear testimony from Dr. Bill Shears; Martha, an eye witness, and Maxwell, the only serving pig. The show is packed with catchy pig-themed songs, piggy puns and priceless porcine baby-back-rib jokes.
Based off of the book of the same name by Jon Scieszka and Lane Smith. Book and Lyrics by Robert Kauzlaric and music by composing team Paul Gilvary and William Rush. Directed by Matt Spencer, Musical Director by Justin Adams, Set Design by Kelli Harrod and John Rohr, Costume Design by Carly Catz, Lighting and Sound Design by Dustin Meadows and Meg Mullens, and Props Design by Timmy Gage.
The cast includes Aaron Kelly (Renovo, PA) as Alexander T. Wolf, Brooke Reese as Magill, Amos Glass as Prudence and Pig #1, Elizabeth Shaffer (Jersey Shore, PA) as Julia and Pig #2, and Timmy Gage as Pig #3 and various other characters.
The True Story of the Three Little Pigs runs Saturday July 18, 25, and August 1 at 10:00am. Tickets are $5.00 at the Door Only. No advanced sales. Available to book for Groups or Events. Don't miss this courtroom dramedy unfold with music, laughter, and ham!