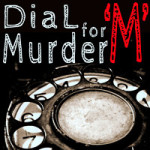 MILL HALL – The Board of Directors and Artistic Director, David Leidholdt, are pleased to announce Dial M for Murder in the Poorman Cabaret.
Need some extra cash? Sell your car or…why not kill your wife? It's murder, money, sex and blackmail in this classic mystery, the source for the much-loved motion picture by Alfred Hitchcock.
Deception, betrayal, passion and greed prove potent ingredients for a perfect mystery in this intense and darkly gripping thriller. Set in 1950s London, ex-tennis pro and house husband, Tony is convinced his wealthy socialite wife, Margot, is having an affair. Between cocktails, a cat and mouse game of intrigue, blackmail and treachery begins as Tony plots the perfect murder. Tension mounts as his precise plan go awry and his alternate sinister scheme keep audiences spellbound till the breathless end.
Based on the Alfred Hitchcock movie of the same name, Dial M for Murder is written by Fredrick Knott. Directed by Morgan Sills, Set Design by Joshua E. Gallagher, Costume Design by Sydney Moore, Lighting Design by Ethan Vail, Props Design by Denise Lalevee, and Sound Design by Joshua J. Duguid.
The cast includes Grace Experience as Margot Wendice, Tavis L. Baker as Max Halliday, James Cella as Tony Wendice, Aaron Kelley as Captain Lesgate, Brady Adair as Inspector Hubbard, and Dustin Meadows as Thompson.
Many performance close to sold out so order today! Tickets are $25 for adults, $15 for students. Dial M for Murder runs July 16 – 19 and July 22 – 25 at 7:30 p.m. and July 22 at 2:00 p.m. Group rates are available. You can purchase tickets by calling 570-748-8083, online at www.millbrookplayhouse.org, or by coming to the box office any day of the week.
Video Report
Sponsored by: