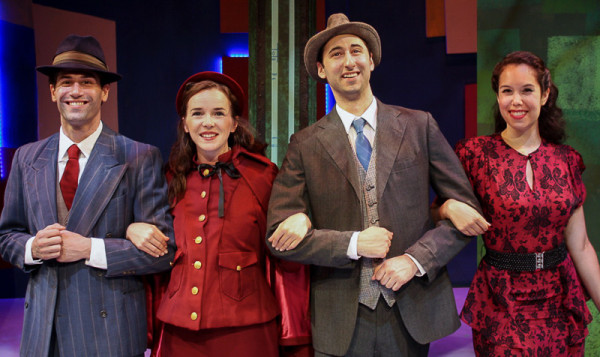 Erin Long Returns Home to Portray 'Sarah Brown'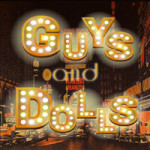 MILL HALL – The Board of Directors and Artistic Director, David Leidholdt, are pleased to announce Millbrook's 40th Anniversary production of Guys and Dolls on the Ryan Main Stage.
Bustling with gamblers, gangsters, sassy showgirls, and colorful characters, Guys and Dolls celebrates Broadway's golden era and finding love in strange and strong situations. This oddball romantic comedy, considered by many to be the perfect musical, will surely have you coming out right.
Watch madness ensue as Nathan Detroit, gambling gangster, tries to save his reputation by finding a place to hold the "oldest established permanent floating crap game in New York." While escaping the authorities and his nightclub performing fiancé of 14 years, Adelaide (who is waiting around for that plain little band of gold and develops a cold), Nathan finally finds a location for the game, but is short the dough. Desperate for the grand to finance his game, Nathan bets hot-shot crook Sky Masterson that he can't take straight laced Salvation Army doll, Sarah Brown, to Havana. Madcap antics unfold as the crew "follows the fold," falls in love, and ultimately learns that "the guy is only doing it for some doll."
The classic score includes hits "Luck Be a Lady", "Sit Down You're Rocking the Boat," "If I Were A Bell," and "A Bushel and a Peck."
Based on "The Idyll of Sarah Brown" and other characters by Damon Runyon, Guys and Dolls features a book by Jo Swerling and Abe Burrows, and an iconic music and lyrics by Frank Loesser. Directed and Choreographed by Todd Underwood, Music Directed by Justin Adams, Set Design by Joshua E. Gallagher, Costume Design by Sydney Moore, Lighting Design by Ethan Vail, Props Design by Denise Lalevee, and Sound Design by Joshua J. Duguid.
The cast includes Nicholas Miller as Sky Masterson, Erin Long as Sarah Brown, Nick Orfanella as Nathan Detroit, Maren Fischer as Miss Adelaide, Tom Lavallee as Nicely Nicely Johnson, David Groccia as Benny Southstreet, Ted Cockley as Arvide Abernathy, Brian Pereira as Rusty Charlie, Sean Temons as Big Julie, Matt Kiesling as Harry the Horse, and Samm Carroll as General Cartwright.
The cast also includes Sara Davis, Catherine DeLuce, Matthew Fairlee, Emily Celeste Fink, Kali Haines, Charles Walljasper Robinson, Brendan Rosell, and Spencer Streno.
Tickets are $25 for adults, $15 for students and $10 for children. Guys and Dolls runs July 9 – 11 and July 15 – 18 at 7:30pm and July 12, 15 and 19 at 2:00pm. Group rates are available. You can purchase tickets by calling 570-748-8083, online at www.millbrookplayhouse.org, or by coming to the box any day of the week.
Video Report
Sponsored by: