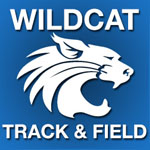 ALTOONA – For the second year in a row Central Mountain's Loc Long has won the District 6 discus title.
The Wildcat senior took first place at Mansion Park on Thursday, his winning throw 150.08 feet to easily capture the crown; a year ago he won with a toss of 139.9. He will return to the PIAA meet next weekend hoping to improve on his 15th place finish a year ago. Long also finished eighth in the shot put on Thursday.
Central Mountain had a second champ and state qualifier in junior high jumper Grayson McCloy, her leap of 5-1 earning her trip to Shippensburg.
As a team the Central Mountain boys finished in fifth place, the girls in third. Other top three finishes included, for the boys, Bryce Mansfield third in the 110 hurdles; for the girls: 3200 meter relay, second; 1600 meter relay, third; 400 meter relay, third; 400 dash, Aliyah Maliak, third; 800 meters, Laurel Moyer, second; triple jump, Cassandra Lageman, second.